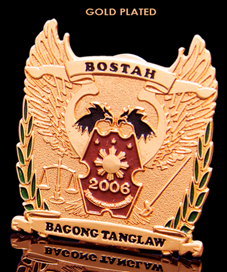 Bostah Bagong Tanglaw Class 2006 Pin - PNP
Bostah Bagong Tanglaw Class 2006 Pin
Bostah Bagong Tanglaw  - PNP Lateral Entrants Officers Class of 2006 (the LINE and TECHNICAL SERVICE OFFICERS of the PNP)
BOSTAH or ''BOS'' this is what they call stands for ''BROTHERHOOD of OFFICERS SERVING for TRUTH, ALLEGIANCE and HONOR.
What is a Lateral Entry Program in the PNP?
According to NAPOLCOM Memorandum Circular No. 2018-002, Lateral Entry is a provision of law that allows the appointment of Police Commissioned Officers (PCOs) to fill-up the vacancies for the LINE and TECHNICAL service positions in the PNP. It excludes the lateral entry of graduates of PNPA.
There are two types of Lateral Entry:
Line Service Position/Line Officers

Technical Service Position/Technical Officers
When we say technical service positions refer to positions requiring highly technical qualifications in the PNP technical services, such as dentist, optometrists, nurses, engineers, and graduates of forensic sciences, licensed criminologists, doctors of medicine, members of the Bar, and chaplains and among others. 
Line service position, on the other hand, it refers to designations/positions performing essential and purely police functions, i.e. law enforcement, crime prevention and security operations, intelligence, investigation, training, and police community relations.
Based on the Civil Service Commission (CSC) Index of Occupational Services (IOS) the following shall be the Qualification Standards for Technical Officers:
Registered Criminologist;

Must have three to four years relevant experience; and

Must have 16 to 24 hours of relevant training.
Give us your idea and we'll create your custom pin! We can guide you through the process and create something you can be proud of. We have a wide selection of designs to choose from. Fit for your recognition needs and budget. We cater to 50-piece and thousands-piece customized Pin requirements. Prices start the affordable 180-peso to the higher-end 450 -peso individually engraved pins. And with our offerings, at any price point, you are sure that you'll have the best value product for your budget.
SPECIFICATIONS
| | |
| --- | --- |
| Material/Finish: | Brass, Gold Finish |
| Overall Size: | 68.75mm dia |
| Personalization Area: | Center Seal, Custom Logo, (CHECK MOLD CHARGES) |
| Thickness: | 1.5mm (1/16 inch) |
| Shape: | Shield Wings with Paint |
| Mounting: | Pin post and Clutch or Magnet |
| Production Style: | Metal Embossing Machines Apply tons of pressure to the either molten-hot, or room temp material, to previously designed and prepared Metal Molds to mark the designs to the material. These pieces are Hand finished then electroplated Plated and painted to execute the client's design |
Artwork:
Picture, Seal, 
Artwork File Types:
All types of files
Usage:
Corporate Awards, Academic Achievements, Employment and Personal Milestones,

corporate Milestones and anniversaries, Uniforms, official Delegates, Company branding School, Nurse

Clients:
Philippine National Police
Production Time:
2 weeks days following proof approval for most orders. Proof will be received within 3 days business day.
Packaging:
 Clear Acetate Box and Shipping box
AKA
Collar Pin, Pin
Email us for additional information on products found in this catalog,  for quantity price quotations or for special request items.