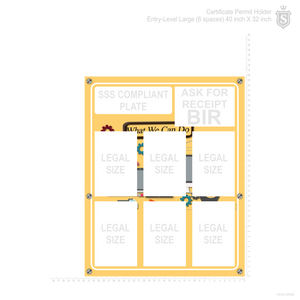 Certificate Permit Holder- Basic Design- Entry Level
Business and Mayors Permits
A business permit from a local government unit (LGU) is required for every business wishing to operate in the Philippines; where the principal location of the business dictating where its business and Mayor's permits will be registered. Every city, municipality, and LGU has a slightly different procedure in their respective city halls. The permits should then be placed in your principle place of business on display for verification by anyone. Additional permits and clearances will be needed from the city hall for other businesses like real estate, IT, and retail and sales.
The business permit may be obtained after the company has been registered with the SEC, and has secured a certificate of registration. The permit is also a prerequisite for tax registration and and work visas that may be applies for foreign staff.
---
Requirements:
• Locational clearance (for change of business address or new applicants);
• Lease contract between the lessor and the lessee:
– Mayor's permit registration of the building owner as a real estate lessor, or lease contract between the lessee and the sub-lessee with the conformity of the owner of the building administration
– Transfer Certificate of Title (TCT) or Tax Declaration (if owned);
• Business name registration with the Department of Trade and Industry (for sole proprietorship/ new applicants);
• Articles of Incorporation/Partnership, approved by SEC (for new applicants);
• Barangay clearance; and
• Public liability insurance.
_
Other requirements depending on the type of business:
• Resident Certificate A and B for single proprietorship, and C and C1 for corporation;
• Contractor's license issued by the Philippine Contractors Accreditation Board (PCAB), in case of general/specialty and engineering contractor;
• National Grains Authority (NGA) license, in case of dealer of rice, corn and wheat;
• Bureau of Food and Drug Administration (FDA), in case of drugstore or bakery;
• Accreditation certificate issued by the Department of Trade, in case of auto repair shop, electronics, radio and other electrical equipments;
• Customer broker issued by the Custom Broker's Commission, in case of custom brokerage business; • Real estate broker's license issued by the Department of Trade and Industry (DTI), in case of real estate broker;
• Department of Labor and Employment (DOLE), in case of recruitment agency;
• Philippine Overseas and Employment (POEA), in case of manning and crewing services;
• Central Bank Authority, in case of banking institution;
• Pest control license issued by Fertilizers and Insecticide, in case of pest control services;
• Videogram permit issued by the Videogram Regulatory Board in case of video rental services;
• Occupancy Permit and Ownership, in case of real estate lessor;
• Future commodity merchant/broker's license issued by the Securities and Exchange Commission (SEC), for those engaged in the sale of commodities for future transactions as merchant/broker;
• PCSUCIA national license, for those operating security agencies;
• Department of Environmental and Natural Resources (DENR) clearance, in case of Mining;
• LTO franchising and regulatory board, in case of rent-a-car and transport services;
• License to Operate Firearms & Explosive Units (Camp Crame);
• Department of Transportation & Communication (DOTC), in case of messengerial and courier services;
• Energy Regulatory Board (ERB), in case of dealer of LPG;
• National Telecommunications Commission (NTC), in case of telecommunications;
• Philippine Shipper's Bureau. in case of forwarders; and
• TESDA certification.
Procedure:
• Submit application form and other requirements to city hall for evaluation and assessment of taxes, fees and charges and recommendation of approval;
• Submit permits to Engineering Department for evaluation of annual inspection fees for building/electrical/plumbing/mechanical, etc. (not necessary if valid occupancy permit for business address can be presented);
• Proceed to administrator's office for approval;
• Secure assessed permit/license application approved with index card;
• Pay fess and receive official receipts;
• Secure Health/Sanitation Certificate from the Health Department; and
• Secure Mayor's permit and other necessary approved permits/licenses.