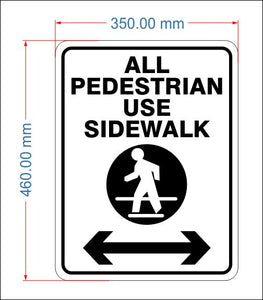 Pedestrian Sidewalk Signage
Pedestrian Sidewalk Signage
SPECIFICATIONS
Material/Finish:

BI Sheet with GI Tube
Overall Size:
460mm x 350mm

Personalization Area:

Sidewalk Signage

Thickness:
2 layers to 3mm
Shape:
Rectangular
Mounting:
Sticker Priniting with Reflectorize Ordinary

Production Style:

state of the art cnc laser and cnc engraving machines cuts the acrylic to your custom form,The Sticker Priniting with Reflectorize Ordinary surface to show your design

. 
Artwork:

Sidewalk

Signage
Artwork File Types:
All types of files
Usage:
Building Signs, Safety Signs, Directional Signs
Clients:
Max Build Construction, Dakay Construction, OBO, Basketball Tournament, Department Store, Hotel & Restaurant.
Production Time:
2 weeks days following proof approval for most orders. Proof will be received within 3 days business day.
Packaging:
 Bubble Wrap Packaging
Aka
Signage
Email us for additional information on products found in this catalog,  for quantity price quotations or for special request items.