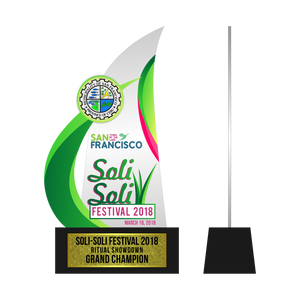 Soli-Soli Festival 2018 Plaque
Soli-Soli Festival Plaque
Wooden Base with Brass Plates
Make personalized acrylic awards We offer a variety of sizes and shapes and thicknesses to create the unique look you are going for. All awards are clear and you can add UV color printing to make your awards pop. These affordable awards are customizable with your text and artwork. 
SPECIFICATIONS
Material:
Clear acrylic, Brass Plate, with Wooden Base
Overall Size:

6-inch*, 8-inch*, 10-inch*, 12-inch, 14-inch, 16-inch, 18-inch, 20-inch

*Due to Size Manufacturing Concerns, Smaller sizes are all acrylic. (6" to 12")
Personalization Area:
Acrylic Body, and Brass Plate on the wooden Base
Thickness:
5.5- 12.0 mm thick Depending on Size
Shape:
Custom Cutout Size, Levels, Fountain, Plant, Grow, Leaves
Mounting:
Table Top Base, Wooden Base Standee, trophy
Production Style:
state of the art cnc laser and cnc engraving machines cuts the acrylic to your custom form,The UV ink or Clear Cutout sticker is printed on the surface to show your design, Wooden base in Matte-Black Finish. Awards are Further customized by Adding award details on the wooden base through a brass plate.
Artwork:
Picture, Seal, Dedication, graphics
Artwork File Types:
All types of files
Usage:
Corporate Awards, Academic Achievements, Employment and Personal Milestones, Sports Awards, Racing, corporation, Festivals, Fiesta
Clients:
Municipality of San Francisco, Cebu Province
Production Time:
3 weeks days following proof approval for most orders. Proof will be received within 3 days business day.
Packaging:
 Clear Acetate Box/ Spandee Bag + Shipping box
Notes:

12mm Thick Material

5.5mm Thick Material

12" to 18'' - w/ Wooden Base 

5.5mm Thick Material (*all Acrylic Base)

6" to 10''- Double Base Acrylic,  
Email us for additional information on products found in this catalog,  for quantity price quotations or for special request items.