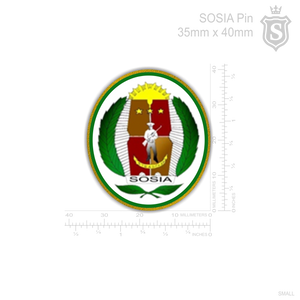 Supervisory Office for Security and Investigation Agencies (SOSIA) Pin - PNP
Supervisory Office for Security and Investigation Agencies (SOSIA) Pin
SOSIA Seal/Logo
The SOSIA logo illustrates the Office's foundation and focus. It comprises the symbol and the name depicting the true nature and origin of the Office. The Sun depicts brightness that serves as beacon of the industry.The Shield shows the protective nature of the industry with the term "Steadfast" below the symbol of the security guard which means loyalty and unwavering devotion to his duty.The three (3) stars represent the three (3) main Islands of the Philippines, namely Luzon, Visayas and Mindanao. The Laurel leaves symbolizes peace which the security guard helps enforce the rules and regulations in accordance with policies and guidelines.
On 01 June 1969, Republic Act 5487 otherwise known as the "Private Security Agency Law" was enacted making the Philippine Constabulary as the sole authority to provide administrative services and general supervision over the management and operations of all organize Private Security Agencies (PSAs), Company Guard Forces (CGFs), Government Security Forces (GSFs) and their security guards.  As such, the control of Government Security Forces was removed from the NICA.  In 04 August 1969, a staff memo was issued by Headquarters, Philippine Constabulary (HPC), organizing the Philippine Constabulary Security and Investigation Agency Supervisory Office (PCSIASO) and later renamed to PC Supervisory Office for Security and Investigation Agencies (PCSOSIA).  And pursuant to GO No. 404 dated 29 June 1970, the office was renamed to PC Supervisory Unit for Security and Investigation Agencies (PCSUSIA).
 Pursuant to Memorandum 07-S96 dated 31 May 1996 the Security Agencies and Guards Supervision Division (SAGSD) was created as one division under the Civil Security Group (CSG) to exercise supervisory authority and implement the Rules and Regulations embodied in RA 5487. 
 On Sep 25, 2009, SAGSD was renamed as the Supervisory Office for Security & Investigation Agencies (SOSIA) thru General Orders #DPL-09-10.
 NAPOLCOM RESOLUTION 321 dated 24 Nov 2010 approved GO# DPL-09-10 entitled "confirming the Restructuring of the PNP CSG".
Give us your idea and we'll create your custom pin! We can guide you through the process and create something you can be proud of. We have a wide selection of designs to choose from. Fit for your recognition needs and budget. We cater to 50-piece and thousands-piece customized Pin requirements. Prices start the affordable 180-peso to the higher-end 450 -peso individually engraved pins. And with our offerings, at any price point, you are sure that you'll have the best value product for your budget.
SPECIFICATIONS
| | |
| --- | --- |
| Material/Finish: | Base Metal Material, Gold Plated |
| Overall Size: | 35mm x 40mm (+-.75inch x 0.75inch) |
| Personalization Area: | Center Seal, Custom Logo, (CHECK MOLD CHARGES) |
| Thickness: | 1.5mm (1/16 inch) |
| Shape: | Round |
| Mounting: | Pin post and Clutch or Magnet |
| Production Style: | Metal Embossing Machines Apply tons of pressure to the either molten-hot, or room temp material, to previously designed and prepared Metal Molds to mark the designs to the material. These pieces are Hand finished then electroplated Plated and painted to execute the client's design |
Artwork:
Picture, Seal, 
Artwork File Types:
All types of files
Usage:
Corporate Awards, Academic Achievements, Employment and Personal Milestones,

corporate Milestones and anniversaries, Uniforms, official Delegates, Company branding School, Nurse,SOSIA

Clients:
SOSIA
Production Time:
2 weeks days following proof approval for most orders. Proof will be received within 3 days business day.
Packaging:
 Clear Acetate Box and Shipping box
AKA
Collar Pin, Pin
Email us for additional information on products found in this catalog,  for quantity price quotations or for special request items.